Home / Press & Media /
What's New
Donnor Exhibition become the UFI certified brand Exhibition Group Company member!!
On June 10, Shanghai Donnor Exhibition Co., Ltd. (the head office of Wenzhou Donnor Exhibition Company, Wenzhou Donnor is also the organizer company of Wenzhou Int'l Leather Fair) approved the Group membership certification of The Global Association of the Exhibition Industry (UFI) and officially became the FIRST Group member of UFI in China.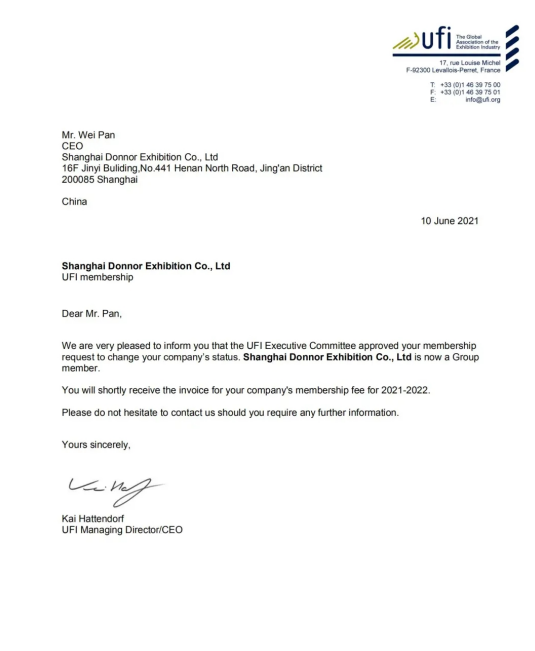 UFI - The Global Association of the Exhibition Industry is the global association of the world's leading tradeshow organisers. More than 921 UFI approved (International) events proudly bear the UFI approved label, a quality guarantee for visitors and exhibitors alike.
The UFI Approved Event and UFI Approved International Event labels are globally recognised as the gold standard for quality in exhibitions and trade shows. When an exhibition joins UFI, it is recognized by the exhibition industry that the professionalization of the exhibition has reached the international level. Donnor Exhibition being a member of UFI is a clear indication of competence and professionalism in the exhibition industry. Joining such a leading global association of the world's tradeshow organisers member, Donnor will share and discuss with premium international exhibitions to provide more opportunities, and jointly promote the development of the exhibition industry.